Post by Napoleoff (INTP) on Feb 4, 2019 4:59:24 GMT
pragmatic: solving problems in a sensible way that suits the conditions that really exist now, rather than obeying fixed theories, ideas, or rules

idealist: a person who values principles above practical behavior
I have encountered considerable difficulty in how best to approach this question, compounded, as Ken predicted in his Rightist Art Round 4 roll call, by the open-endedness of the original prompt. This, and other personal reasons, is why submission of the present essay has been delayed until now.
The first difficulty is of definition; what is idealism, what is pragmatism and what is the essence and effect of the difference between the two. Both words represent not physical objects but abstract concepts and so it is possible to conceive of the idealism-pragmatism dichotomy as an idle semantic game in which whether an approach is considered idealistic or pragmatic depends only on one's perspective. To illustrate this point, I will refer to the life of the American pragmatist philosopher Charles Sanders Peirce who in 1878 contributed an essay to the American magazine The Popular Science Monthly entitled '
Illustrations Of The Logic Of Science: Second Paper - How To Make Our Ideas Clear.
'
[1]
In the essay, Peirce says that
"the essence of belief is the establishment of a habit, and different beliefs are distinguished by the different modes of action to which they give rise. If beliefs do not differ in this respect...then no mere differences in the manner of consciousness of them can make them different beliefs, any more than playing a tune in different keys is playing different tunes."
He supports this idea with an example in which he compares the Catholic and Protestant ideas about the presence of Christ in the Eucharist; Catholics hold that the bread and wine are literally Christ's flesh and blood - transubstantiation - whereas Protestants generally hold that Christ's presence is more symbolic or metaphorical (what Peirce calls "tropical"). Peirce's conclusion on this matter is that "it is foolish for Catholics and Protestants to fancy themselves in disagreement about the elements of the sacrament, if they agree in regard to all their sensible effects, here and hereafter." Peirce follows this up with what has become known as the '
pragmatic maxim
':
"It appears, then, that the rule for attaining the third grade of clearness of apprehension is as follows: Consider what effects, that might conceivably have practical bearings, we conceive the object of our conception to have. Then, our conception of these effects is the whole of our conception of the object."
To rephrase Peirce's thoughts on pragmatism: differences between ideas or beliefs should only be considered to exist insofar as their conceivable or perceptible material effects differ. Even if their linguistic modes of expression are different, any distinction between the ideas or beliefs should be considered imaginary as long as their effects are identical.
Peirce's philosophy is radically pragmatic when viewed nominally and at its surface level, but his desire to, and belief that he could, get people to conform their actions and thinking with pragmatism was actually a form of idealism on his part. It was radically idealistic for him to work to produce an entire philosophy geared towards pragmatism. Although in one of his later clarifications he said that "
pragmatism is not a Weltanschauung but is a method of reflexion having for its purpose to render ideas clear
," we should nevertheless appreciate that any attempt to systematise thinking is inherently philosophical and, once again, highly idealistic. Anyone who consciously adopted pragmatism and tried to conform their thinking to its principles would thereby also be engaging in an idealistic exercise. Moreover, the underlying metaphysical final argument that he uses to justify his brand of philosophical pragmatism is based on something not tangible at all but idealistic instead; his belief in a what he calls a "predestinate opinion" or "destined centre" on which all those who investigate material phenomena scientifically are, regardless of their peculiar approach, "fated" to converge and "settle". Peirce claims to have little patience for metaphysics, calling it "a subject much more curious than useful, the knowledge of which, like that of a sunken reef, serves chiefly to enable us to keep clear of it", and he affects to give it a place of subordinate importance while at the same time taking a metaphysical position himself. However it is an unavoidable fact that everyone takes some metaphysical a priori as the foundation for their view of the world. On the other hand, one might also take the view that relegating the nonphysical world in the way Peirce does is a pragmatic position.
As Aarvoll says in
this
conversation, one good way to evaluate a man's philosophy is to look at his life. Pragmatism claims that beliefs are effectively true only if they work and that we should focus on matters of daily and practical importance rather than on intangibles, but when we assess the personal life of Charles Sanders Peirce we see that although he was an immensely gifted polymath, he was not actually a very pragmatic man and instead conducted his life as an idealist, writing heavily for decades while failing to publish all but one book and otherwise failing to bring to fruition his many projects. He inherited enough money from his parents to buy a 2000-acre plot of land near Milford, Pennsylvania, where he lived in relative seclusion with his second wife Juliette until his death in 1914 (Peirce had gotten involved with Juliette while married to his first wife and due to the apparent covert malice of the Canadian-American scientist Simon Newcomb, the affair was brought to the attention of a John Hopkins University trustee and Peirce was subsequently fired from the university in the ensuing scandal). Peirce failed to make any financial return on his plot of land and he neglected his own financial and legal situation to the extent that he could not afford to heat his house in winter and his brother, his neighbours, the local baker and his old friend in pragmatism William James had to variously help him out of his legal troubles (including debts and being on the run in New York from an arrest warrant for assault), collect money for his subsistence, and donate stale bread to him. He had no children with either of his wives and died in poverty. Going by the dictionary definitions I gave at the beginning of this essay, Charles Sanders Peirce was both a pragmatist and an idealist and even some of his individual actions were both pragmatic and idealistic at the same time or, to put it another way, paradoxical.
In giving the above thoughts about Charles Sanders Peirce, it is not my object to pass any value judgement on either his life or his philosophical system. I simply mean to demonstrate that the distinction between idealistic and pragmatic actions often resides in the perspective we view them from rather than in the actions themselves. Additionally, that we cannot always know what thoughts led people to take this or that action adds yet another layer of complexity to the process of distinguishing idealism from pragmatism. Temporal and spatial considerations may also contribute to whether an action should be judged pragmatic or idealistic; the respective distinctions here would be temporal-supertemporal and near-far (or maybe spatial-nonspatial).
It might help to define as pragmatic an act that tends towards being in accordance with lower-level materialistic everyday physical and human practical effectiveness and self-interest, and to define as idealistic an act that tends towards being in accordance with higher-level nonphysical non-human and transcendent principles and the setting aside of self-interest. I say "tends towards" because for various reasons there is not always a clear distinction between the pragmatic and the idealistic action, and an action that tends to have one character may also contain elements of the opposite character, a fact which I hope I have successfully demonstrated above in my discussion of Charles Sanders Peirce's life and philosophy. This dynamic between apparent opposites can be compared to the ebb and flow between good and evil which are the two halves of a unitary dualism. The distinction I have drawn here between the idealistic and the pragmatic is very closely aligned with how Julius Evola in his book "Revolt Against the Modern World" distinguishes traditional civilization from modern civilization. Traditional civilization for Evola is categorically set apart from and fundamentally opposed to modern civilization, and in the foreword to the book he explains this "dualism of civilizations" as follows:
"In order to understand the spiritual background typical of every nonmodern civilization, it is necessary to retain the idea that the opposition between historical times and "prehistoric" or "mythological" times is not the relative opposition proper to two homogeneous parts of the same time frame, but rather the qualitative and substantial opposition between times (or experiences of time) that are not of the same kind. Traditional man did not have the same experience of time as modern man; he had a supertemporal sense of time and in this sensation lived every form of his world. Thus, the modern researchers of "history" at a given point encounter an interruption of the series and an incomprehensible gap, beyond which they cannot construct any "certain" and meaningful historical theory; they can only rely upon fragmentary, external, and often contradictory elements - unless they radically change their method and mentality.
On the basis of these premises, the opposition of the traditional world to the modern world is also an ideal one. The character of temporality and of "historicity" is essentially inherent only to one of the two terms of this opposition, while the other term, which refers to the whole body of traditional civilizations, is characterized by the feeling of what is beyond time, namely, by a contact with metaphysical reality that bestows upon the experience of time a very different, "mythological" form based on rhythm and space rather than on chronological time. Traces of this qualitatively different experience of time still exist as degenerated residues among some so-called primitive populations. Having lost that contact by being caught in the illusion of a pure flowing, a pure escaping, a yearning that pushes one's goal further and further away, and being caught in a process that cannot and does not intend to be satisfied in any achievement as it is consumed in terms of "history" and "becoming" - this is indeed one of the fundamental characteristics of the modern world, and the limit that separates two eras, not only in a historical sense but most of all in an ideal, metaphysical, and morphological sense.
Therefore, the fact that civilizations of the traditional type are found in the past becomes merely accidental: the modern world and the traditional world may be regarded as two universal types and as two a priori categories of civilization."
[2]
Evola a few pages later expands on the difference as he sees it between traditional civilization and modern civilization:
"In order to understand both the spirit of Tradition and its antithesis, modern civilization, it is necessary to begin with the fundamental doctrine of the two natures. According to this doctrine there is a physical order of things and a metaphysical one; there is a mortal nature and an immortal one; there is the superior realm of "being" and the inferior realm of "becoming." Generally speaking, there is a visible and tangible dimension and, prior to and beyond it, an invisible and intangible dimension that is the support, the source, and true life of the former.
Anywhere in the world of Tradition, both East and West and in one form or another, this knowledge (not just mere "theory") has always been present as an unshakable axis around which everything revolved...As difficult as it may be for our contemporaries to understand this, we must start from the idea that the man of Tradition was aware of the existence of a dimension of being much wider than what our contemporaries experience and call "reality." Nowadays, after all, reality is understood only as something strictly encompassed within the world of physical bodies located in space and time...Through his practical and immediate experiences, modern man, no matter how deep his "materialistic" or "spiritual" beliefs may be, develops an understanding of reality only in relation to the world of physical bodies and always under the influence of his direct and immediate experiences. All the other versions of materialism that are formulated in scientific or in philosophical terms are only secondary phenomena. The worst type of materialism, therefore, is not a matter of an opinion or of a "theory," but consists in the fact that man's
experience
no longer extends to nonphysical realities"
[3]
These lengthy excerpts from Evola should be enough to give a good representation of my working definition of idealism and pragmatism. It should go without saying that the outlook of Evola's Traditional civilization is in alignment with idealism and that the outlook of modern civilization in alignment with pragmatism. I see no reason why the propaganda-art continuum and the understanding of idealism-pragmatism articulated by Ken in his essay should work at cross purposes with the explication I give above, since my essay and his are based on the same conception of idealism and pragmatism; if necessary, we can make a further subdivision of the idealism category to separate the Evolian belief in the external reality of the nonphysical realm from the general modern secular conception that, while people may hold ideals in their heads, the nonphysical realm is actually mental and illusory.
Without further ado, and in the hope that the ideas about pragmatism versus idealism discussed above are coherent or at the very least entertaining and enlightening, I will now use the idealism-pragmatism schema I just laid out to help me say a few things about real art.
Constructing and adorning large Christian churches and cathedrals in the Western world was, and as evidenced by Catalan Modernist architect Antoni Gaudi's Sagrada Familia in Barcelona in Spain (construction 1882-present) still is, an activity undertaken over lengthy spans of time (often several lifetimes) and involving many social classes, professions, guilds, vocations and other groups in the community and all of their respective specializations, arts or crafts. Simply entertaining the idea of building such churches is an extreme idealistic act, and it was one which many times during the last millennium towns and cities across Europe carried on to the stage of engaging the talents and skills of whomever would be needed and actually beginning the work and then following it through to a finish which the people who began the creation knew they would never live to see. In contrast, the Great Pyramid of Giza took 10-20 years to build and may have been completed within the lifetime of Khufu, the Pharaoh who commissioned it; incidentally, after standing for almost four millennia (about 3870 years) as the tallest manmade structure in the world, the Great Pyramid was first surpassed in height in 1311 by the raising of the central spire of one of these churches, Lincoln Cathedral in England (although the spire collapsed in a storm in 1549 and the cathedral lost its first position).
Sagrada Familia in Barcelona, Spain:
Khufu's Great Pyramid of Giza, Egypt, built c.2580-2560 BC: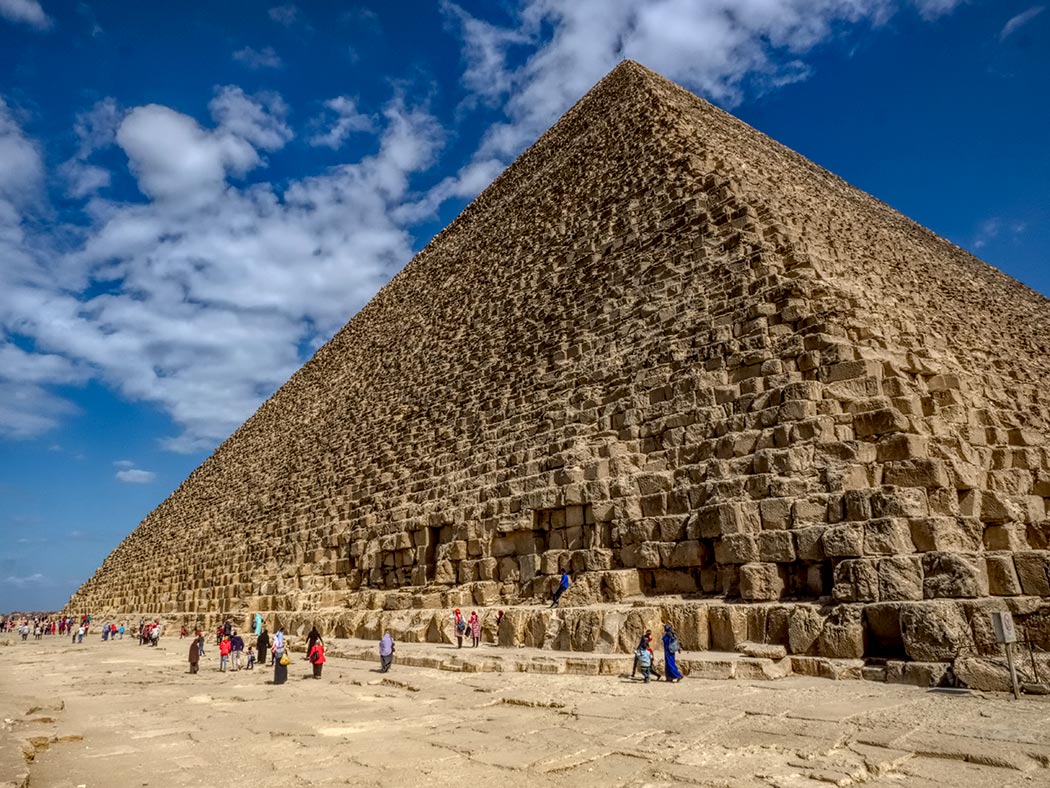 Artist's impression of Lincoln Cathedral with central spire intact:

Lincoln Cathedral, southwest aspect. Photochrom print, c.1890-1906. Library of Congress reproduction no. LC-DIG-ppmsca-52397:
In addition to the exquisite and highly-ornamented stonemasonry on the outside and inside of these churches, there were often large delicately-shaped windows made out of many smaller panels of stained glass in either a pictoral configuration depicting Christ, the Virgin Mary, the various saints and so on, or a kaleidoscopic concentric configuration, which became known in the 17th century in English as the rose window or Catherine window and which had developed out of the ancient Roman oculus which was a circular aperture of the kind found in buildings such as in the roof of the Pantheon in Rome and later in Early Christian churches in Rome such as Santa Maria Maggiore, in addition to Byzantine churches.
Pantheon, Rome - painting 1735 by Giovanni Paolo Panini:

Santa Maria Maggiore, Rome, built by Pope Celestine I (papacy 422 until death in 432) and consecrated to the Virgin Mary on August 5th 434 by his successor Sixtus III, with major works and additions in different styles continuing on and off until 1743 (oculus can be seen at the end of the nave in this picture, later Renaissance and Baroque decoration is in evidence):
Large north rose window completed c.1250 of Notre Dame, Paris - Christ Child and Virgin Mary in the middle surrounded by saints and prophets. Rose windows like this developed from the Roman oculus and by the Middle Ages had grown larger with intricate tracery, patterns, pictorial representations of religious themes and stained glass:
Sistine Chapel ceiling and wall in the Apostolic Palace, Vatican City. The ceiling was painted between 1508 and 1512 by Michelangelo and the wall mural, known as The Last Judgment, was painted between 1535 and 1541, also by Michelangelo. It is one of the crowning achievements of art in the High Renaissance and has been hugely influential ever since:

All of the art and architecture shown so far is sprung from the Traditional outlook advocated by Evola, or vestiges of it. In the case of the Great Pyramid and the Great Sphinx at Giza, they arguably belong to Evola's "supertemporal" or "mythological" time which is outside of known chronological history and from which Evola submits we can therefore extract eternal "generative principles" common to all Traditional societies without having to deal with the distraction of linear chronological succession. With very ancient man made structures and artifacts, their exact dates and even years are not known, nor in many cases are the kings who commissioned them (let alone the artists or artisans responsible for them). These kinds of artifacts are capable of producing wonder and awe in the beholder, and in this context it may not be a coincidence that they are conceptually rooted in what is unshakable.

The Great Sphinx of Giza, c.2558-2532 BC. Ostensibly representing Khufu's son Khafre and built during his reign; photo c.1878:
Drawing back from these extremes of idealism, we are going to look briefly at what it means for art to get more pragmatic.
One way in which art may get more pragmatic would be to become more accessible to the average person. Even if the subject of any given work of art is the same as that of a grand work, reduction in scale and cost increases the potential for creating commerce out of moderately priced art, and the intertwining of art with commerce could be projected to have a general downward pressure on both the quality of art and the amount of idealism that goes into it. At the lower end of artistic quality today are produced crude mass-produced plastic ornaments and other such items. This dynamic of mass-production of art for a low price is also at work in for example the early printing technique of the woodcut.
The Four Horsemen, woodcut by Albrecht Dürer, c.1496-1498

This woodcut by Dürer shows that this technique could produce impressive results, but the fact remains that woodcutting is a pragmatic method capable of producing many copies for wide distribution and for the common man. Such artifacts differ from the idealistic examples I have used above, and even if the theme is high-minded or religious as it is in this woodcut, the mere fact of ease of production has what I would argue is an inescapable cheapening effect both in monetary terms and with respect to intangible value. The value of art in this way becomes subject to the law of supply and demand and results in devolving to the "lowest common denominator" so to speak; there can be only one Sphinx, Sistine Chapel, Mona Lisa
[4]
but there can be many functionally identical woodcuts of equal value by Albrecht Dürer. In our time, the 21st century, there is such abundance and ease of access that everything has been greatly cheapened, and combined with the profit motive and the finely-tuned psychological techniques employed on the population to put them in a buying mindset this rampant pragmatism appears irresistible even though it ultimately fulfils nobody. We live in the age of the mass man, the age of destruction of meaning and what John David Ebert refers to as the age of artists retreating into their own self-created, self-contained and self-referential semiotic bubbles. Generally, this pragmatic art tends toward the bloodless and uninspiring. There is also leftist art which tries to be inspiring or idealistic and would succeed in this but for the shoddiness and total bankruptcy of its underlying metaphysic.
Writing and thinking about this has brought very clearly to my mind that my fellow contributor is most likely correct
to conclude
that the real purpose of art is to align our Will with a certain metaphysic rather than our conscious mind and that an involuntary, emotional and bodily (what Ken
calls
"thumotic") response is needed and not just cold intellect which in the scheme of things can tell us nothing on its own. To me, art loses all its meaning if it is not grounded in idealism, and Traditionalist or perennially-minded people should strive to have great stability and confidence in their kind of idealism because it is deeply-rooted in the nature of Being such as we can understand Being, and it is ultimately truthful unlike the misbegotten idealism of those they would see as their opponents. As such, the basis of perennial idealism is impossible to destroy.
The question of pragmatism and idealism in art is inexhaustibly diffuse, one reason why it took me so long to find direction within it. In my essay on the Marcell Jankovics' Hungarian animated film Feherlofia, I wrote that it would take a whole book to do justice to the meaning contained within the film; my comment in this vein on the subject of the present essay is that there is no reason to anticipate that even a hundred years spent explicating on any one aspect of art per se would be enough to make the author think of his work as truly complete. In that spirit, I will end this essay at what feels to me an arbitrary point in the discussion but which the unspokenly-agreed economy of our current format dictates should probably be the end.
[1] Press ctrl-f in the linked page to activate the "find" function on your browser (at least this works in Firefox, maybe there are other methods on other browsers) and type any key word or phrase in my quotations of Peirce's essay to quickly zoom to the quotation in its context in the essay. For a downloadable pdf link to the Peirce essay go to archive.org here:
archive.org/stream/popscimonthly12yoummiss#page/290/mode/1up
Link should take you to page 290 of the pdf document which is where the essay starts.
[4] Mona Lisa c.1503-1517 by Leonardo da Vinci: